It can be confusing trying to buy a barcode scanner with all of the different options available. Our team of POS experts have made it super easy for you to pick the best 1D handheld barcode scanner for your needs from our top 5 list.
#5. ID Tech ValueScan II: this scanner made it into our top 5 due to its high performance, low price point and a snappy scan engine that is best in class. If you are looking for a robust barcode scanner for lite to mid-volume scanning duties, then the ID Tech ValueSan II has the best value for your money. (Optional hands free stand available).
#4. Datalogic Touch 90 Lite: this barcode scanner hits the sweet spot on price and performance. If you are looking to get a step up from an entry level scanner, then the Datalogic Touch 90 Lite is the scanner for you. This scanner comes packed full of high end features at an amazingly low price point. For instance, it is ruggedized to withstand multiple 5 feet drops, and its snappy can engine can easily read poorly printed and damaged barcodes. The Datalogic Touch 90 Lite is recommended by us due to its quality build and many other advanced features that are packaged at a very affordable price.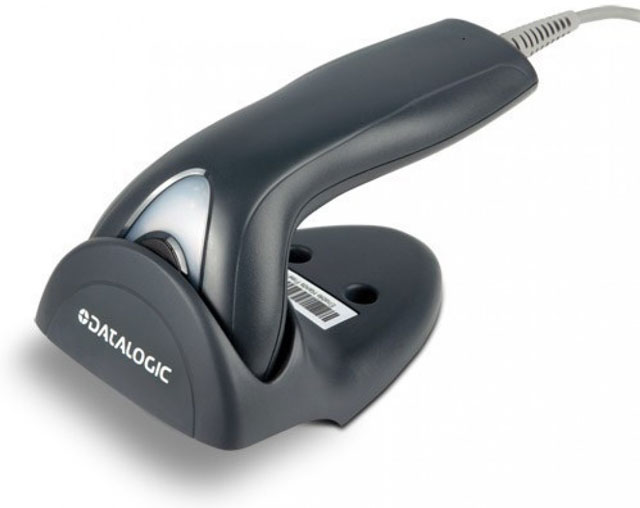 #3. Honeywell Voyager 1250g: this scanner got our third spot because it is hands down the best buy for a laser barcode scanner! At less than $100, Honeywell is breaking performance and price barriers with the Voyager 1250g. This barcode scanner sports an aggressive scan engine that can easily read barcodes up close or from a few inches away. The Voyager 1250g scanner is an ideal choice for anyone looking for a quality laser barcode scanner without going over budget. Bottom line is....you won't find a better deal for a brand name laser barcode scanner than this one.
#2. Datalogic QuickScan QD2100; this imager barcode scanner boasts an impressive array of features at a value price of less than $140. The QuickScan QD2100 comes with so many advanced features it is hard to list them all here. For example, this scanner boasts an IP42 sealant rating against dust and moisture, can withstand multiple drops to concrete, patented green dot aiming technology, hands free stand, can easily read poorly printed and damaged barcodes, and has an impressive 5-year warranty. When you add that all up, it is not difficult to see why the Datalogic QuickScan has been so popular with retailers worldwide looking for the best value without sacrificing performance and features.
#1. Symbol LS2208: our #1 best barcode scanner pick is the bestselling handheld barcode scanner of all time! The Symbol LS2208 has sold well over 5 million units, and it is the most widely known barcode scanner worldwide. The LS2208's rugged design allows it to withstand harsh working environments, and its award winning, advanced laser scan engine offers unparalleled performance in its class with good barcode reads up to 17 inches away! In addition, the LS2208 barcode scanner comes with an industry leading 5-year warranty. The LS2208 has a proven track record of superior reliability and performance earning it the #1 spot in our top 5 barcode scanner list.