Cash Drawer Basics (How to Choose an Electronic Cash Drawer)
There are many things to consider when buying an electronic cash drawer other than just price. A cash drawer is a core component of your POS system, so it is best to buy one that offers essential features and quality construction such as MS Cash Drawer, APG, or MMF brands, for example.
Important factors to consider when buying an electronic cash drawer are:
1. Footprint Size: How big of a cash drawer do you need? What generally determines this is (A) your other POS system hardware, and (B) how much room do you have at the POS system? If you are buying a cash drawer for a tablet based POS system, then it is generally best to get a cash drawer from 13"x13" (or smaller) up to 16"x16" (suggested maximum) footprint, for example.
If you are purchasing a cash drawer for a standard POS system (non-tablet based), then it would be best to get a larger size cash drawer from 16"x16" footprint on up. Also, be sure to measure your countertop first before you buy a cash drawer to ensure it will fit. If you are unable to install the cash drawer size you want on top of your counter, then consider installing it underneath the counter if possible. Most cash drawers have optional undercounter mounting brackets available.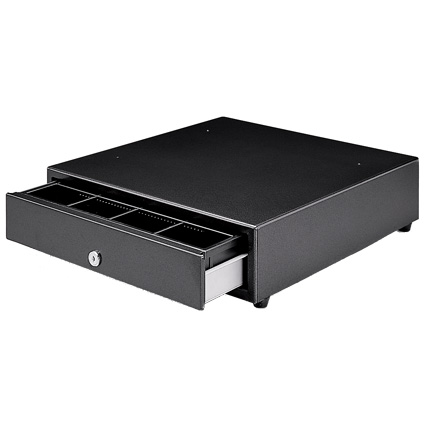 2. Money Tray: Be sure your cash drawer has a removable money tray (also known as a 'till' or 'insert'). The leading cash drawer manufactures offer a removable money tray for most models. (Note, the micro cash drawers 10"x13" footprint or smaller generally do not have a removable tray option.) Having a removable tray allows you to easily replace and count money when employee shifts change. Furthermore, be sure the cash drawer tray has adjustable money compartments; this will allow you to effortlessly customize the tray for optimum usability. Most modern cash drawer money trays have adjustable compartments, but it is still always best to check first before purchasing.
3. Metal Money Holders: Ensure your cash drawer's money tray has metal/spring loaded money holders. Metal money holders are more durable than the cheap plastic ones. Some cash drawer manufacturers market their plastic money holders as a superior construction to the metal ones, and we are just amazed at how they can make such a statement!
4. Paint Finish: Try and get a cash drawer that does not have a standard 'powder coating' paint finish. A cash drawer with a standard powder coating paint finish tends to nick and scratch more easily. Most lower cost cash drawers have a standard powder coat paint finish; however, MS Cash Drawer (a premiere cash drawer manufacturer) offers a durable fired powder coat and paint finishes on different cash drawer models except for the Echo series.
5. Media Slots: A cash drawer with media slots is something to consider when purchasing. Most cash drawer models come with or without media slots. A media slot (just as ther name implies) is a slot in the front of the cash drawer that allows you to insert checks, receipts, etc without opening it. Deepening on the size of the cash drawer, it will have from 1 to 3 media slots. We highly recommend purchasing a cash drawer with media slots just for the convenience factor it offers the user.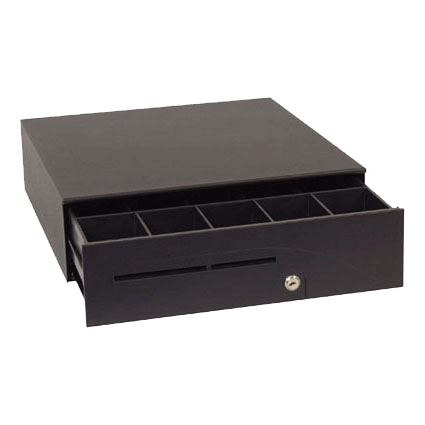 6. Lock Functionality: Not all cash drawer locks are the same, so it is best to consider the type of lock you want before purchasing. Cash drawer locks are available in 2 to 4 'position' configurations:
2 Position: Electronic Lock & Electronic Unlock
3 Position: Electronic Lock, Electronic Unlock & Manual Control (Most Common)
4 Position: Electronic Lock, Electronic Unlock, Manual Control & Locked Open
The '3 Position Lock' is the most common type found on a cash drawer. Also note that if you are buying multiple cash drawers you can have them keyed alike as an option. Cash drawers are sold keyed differently by default, so be sure to request the keyed alike option before you buy; this is normally a special order and can delay shipment by up to 2 weeks.
7. Storage: This ties into section 5 above about media slots. Cash drawers have different storage capacity. This is additional storage space for receipts, checks, coin rolls, etc. If you plan to store a lot of coin rolls or other items in your cash drawer, then be sure to get a cash drawer that offers ample storage space. The MS Cash Drawer EP-107N2 or the MMF Media Plus are top picks for this requirement.
8. Bell: To ring or not to ring? Back in the day, all cash drawers came with a bell. This was the original low tech loss prevention at the cash register (the bell rang alerting all within earshot that someone opened the cash drawer). Since those days, cash drawers with bells are no longer common. This is because a computerized POS system tracks when 'no sales' are entered and by whom, and POS systems today can be connected to a camera, whereby, a photo is taken every time the cash drawer opens. That said, some still may want the old school bell, and there is nothing wrong with that. If you want a cash drawer with a bell that rings every time the cash drawer opens, then we recommend MS Cash Drawer; they offer a bell option for most of their cash drawer models at a nominal cost.
9. Interface Type: The most common type of electronic cash drawer is what's called a 'receipt printer driven' cash drawer. This means that the cash drawer will be operated by your receipt printer. Your cash drawer will connect to the back of the receipt printer via a custom RJ cable (looks like a telephone cable), and when the receipt printer prints, it will send a signal down the RJ cable to the cash drawer for it to open, simple process. So when you purchase your cash drawer, be certain that you also get the RJ cable. Some cash drawers come with the cable as standard, and for others it is an optional item.
Be sure to purchase a RJ cable that will work with your receipt printer brand. If your receipt printer brand operates in Epson compatible/ESC POS printer language such as Epson, Bixolon, SNBC, Citizen, and CRS printers, for example, then be sure to get an Epson compatible RJ cable for your cash drawer. If you have an Ithaca or Star Micronics receipt pointer, then get the corresponding RJ cable for them. Bottom line is: cash drawer RJ cables basically come in 3 different printer compatibility options: Epson, Star Micronics and Ithaca. (Please see video below for an electronic cash drawer connectivity demonstration.)
NOTE: In rare instances, a receipt printer driven cash drawer is not required. This will happen if you are not printing a receipt to a standard 40 column (3" wide or samller) receipt printer. In this instance, you may need a USB or Serial cash drawer, but, again, this is a very rare configuration. However, if you are uncertain of the cash drawer interface type you need, be sure to check with your POS software vendor first before purchasing.
10 . Additional factors to consider when purchasing a cash drawer:
Cash drawers are non-intelligent devices, so they are compatible with most POS system installations.
A heavier cash drawer generally means it is of higher quality.
Just like other products, the more you pay for a cash drawer…the better the build quality and features.
Cash drawers are usually only available in the following color variants: black, white, beige.
We recommend purchasing one of the following brands: MS Cash Drawer, MMF Cash Drawer and APG Cash Drawer. There are many cash drawer makes and models available on the market today, and most of them are cheap and will break after a short period of time. It is best to purchase a cash drawer from one of the top brand name manufacturers listed above. They make quality products, have free after sales USA based tech support, and warranties range from 1-3 years depending on the model purchased.
If you need additional help choosing the right cash drawer for your business, please don't hesitate to contact one of our point of sale experts. You can also view the 2 POSCatch product presentation videos below to learn more about electronic cash drawers.
Additional Resources for You:
How the Heck Do I Connect My Cash Drawer?
POSCatch.com YouTube Cash Drawer Video Presentations: