elo Monitor Guide
This POS Touchscreen buying guide will help you decide what is best for your business.

Touchscreens are more common place in hospitality (restaurants) then in a retail environment. The main reason why touchscreens are used more widely in the hospitality sector is due to the POS software. All hospitality POS software user interfaces are written for touchscreen usage. This enables the server at a restaurant to quickly seat, order and cash out a patron by touching the large graphics displayed on the touchscreen.
There are different types of elo touchscreen technologies, and we will review them in detail to help you decide what is best for your business.

Resistive Touchscreen Monitor (Restaurant & Retail Recommended) MOST POPULAR TOUCH TECHNOLOGY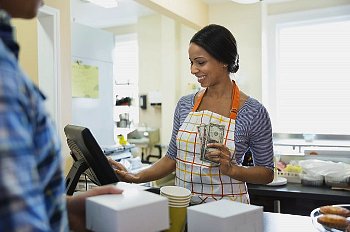 If you own a restaurant and are looking for a touchscreen monitor, a resistive touchscreen is usually the best fit. This is mainly due to their low cost, high performance and wide ranging touch activation versatility. Resistive touchscreen monitors can be operated by both the human finger (gloved or ungloved), fingernail, corner of a credit card, and virtually any type of hard or soft stylus. The only other touchscreen technologies that can operate with as many stylus types is the Elo Acoustic Pulse Recognition (APR) and CarrollTouch.
5 (five) wire resistive touchscreen technology is comprised of a thick, chemically treated plastic sheet that is stretched tightly over a glass monitor; this is commonly known as the "touch overlay". When the touchscreen is touched, there is an electrical current sent from the overlay to the glass and then to the touchscreen controller. The touchscreen controller processes the electrical current by digitizing it and then sends that data to the host computer to be processed for X and Y axis. That's a very brief explanation of how resistive touchscreen technology works.
Input Methods Are: Finger, gloved hand, or stylus activation.
For more information, please see the Elo Accutouch/Resistive Data Sheet.
Surface Acoustic Wave (SAW) Touchscreen Monitor (Retail/Public Kiosk/Self Service Recommended)

A Surface Acoustic Wave technology (SAW) touchscreen monitor is almost indestructible. It is the most scratch resistant touchscreen monitor you can get, and wearing out such a durable pure glass constructed touchscreen monitor is almost impossible. In addition, a SAW touchscreen monitor has one of the best resolutions because it does not use an overlay like resistive touch technology does. SAW touch technology works by transmitting ultrasonic acoustic waves over an array of reflectors, and when a stylus touches the screen and penetrates the acoustic wave pattern, the data is sent to the touchscreen controller to digitize and then to the host computer to calculate the X and Y axis at the point where the stylus is at on the screen.
Input Methods Are: Finger or gloved hand (cloth, leather, or rubber) activation.
For more information, please see the Elo Intellitouch Data Sheet.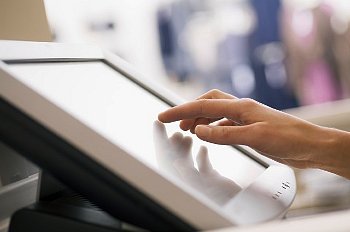 Projected Capacitive Touchscreen Monitor (Retail/Public Kiosk/Self Service Recommended)
Projected Capacitive (PCAP) touchscreen technology is the next generation capacitive touchscreen monitor that offers dual gesture touch, which is 2 simultaneous touch points when operated on Windows 7 and 8. The PCAP touch technology is comprised of a patented glass-on-glass laminated configuration, and it has accurate response times to the lightest of touches. Because PCAP touchscreen monitors are absent an overlay or substrate, the PCAP glass-on-glass monitor touch system is almost impossible to wear out. In addition, PCAP touchscreens are easy to clean and maintain due to their zero bezel design. PCAP touchscreen technology offers crisp, high resolution images, making it a top pick for many touch activated applications. No matter if the user's finger is gloved or not, the PCAP touchscreen monitor will always provide superior touch performance in just about any type of operational environment.
Input Methods Are: Finger or Latex gloved hand activation.
For more information, please see the Elo PCAP Data Sheet.

Elo CarrollTouch Touchscreen Monitor (Retail & Restaurant Recommended) LIMITED AVAILABILITY
Please note: the Elo CarrollTouch is no longer available in Elo desktop monitors. This touch technology is only available in Elo open frame touch monitors for special order kiosk type applications/installs.
Do you need a touchscreen monitor that will hold up to a harsh environment? Have you tried other touchscreen technologies and they have failed due to caustic materials and heavy usage? Then perhaps it is time to try the Elo CarrollTouch touchscreen monitor. The Elo CarrollTouch touchscreen is different to any other touchscreen technology today. Unlike other touchscreen technologies that use a substrate or an overlay to function, the ingenious Elo CarrollTouch uses advanced infrared optical technology, so the touchscreen can never be worn out! The CarrollTouch infrared touch technology is the best choice for any harsh environment that destroys other touchscreen technology types. The Elo CarrollTouch can be activated by any kind of stylus including a finger gloved or not. So if you are looking for the absolute best, most robust touchscreen monitor in the world, then the Elo CarrollTouch is the one for you.
Input Methods Are: Finger, gloved hand or other stylus activation.
For more information, please see the Elo CarrollTouch Data Sheet.
Please note that most Elo CarrollTouch products are now discontinued.
Elo Acoustic Pulse Recognition (APR) Touchscreen Monitor (Discontinued by ELO)
Elo Acoustic Pulse Recognition (APR) POS touchscreen Monitors utilize a brand new touch technology. The Elo APR Touch has eliminated many of the standard touch components that are found in other touchscreen technologies such as resistive and capacitive. APR Touch only uses a unique glass overlay that's mounted in front of the LCD or LED display, and a new type of touch controller is used. The new APR Touch technology actually reads the sound generated by the touchscreen when touched, which is a revolutionary new method. Elo's new APR Touch has taken touchscreen technology to new heights of performance and reliability that are just now being understood.
Input Methods Are: Finger, finger nail, gloved hand, or stylus activation.
For more information, please see the Elo APR Data Sheet.
Need Help Choosing the Right Tocuhscreen Monitor?
Need help choosing the right touchscreen monitor for you? Check out this informative Elo touchscreen comparison chart. And if you still need assistance, please don't hesitate to contact us. We are always eager to help our valuable customers.
Elo's Touchscreen Selection
For almost 4o years Elo's been making a wide selection of touchscreens that are industry leading in quality and price.