Product Description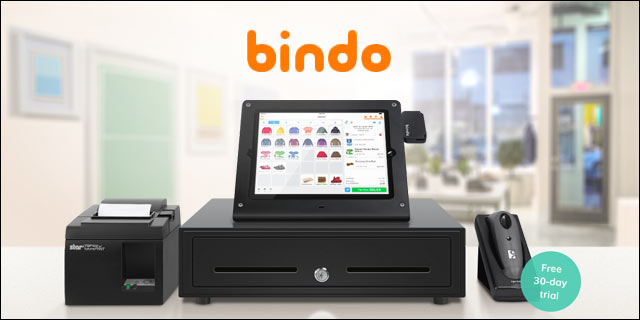 BINDO POS IS A CLOUD BASED SUBSCRIPTION SERVICE, STARTING AT ONLY $49.00 PER MONTH. PLEASE SUBMIT FORM BELOW TO REQUEST MORE PRICING INFORMATION AND TO START A FREE TRIAL.
Bindo POS Features at a Glance:
Super easy to learn iPad POS system

Live, USA based tech support

No long term contracts

Sell in-store, online and on mobile

CRM & customer loyalty

Inventory management

Detailed reports

Time clock

Gift Cards

Inoices & purchase orders

Multi-store setup

QB Integration

And much more...
Bindo POS Harwdare Kit Includes*:
Heckler Design Windfall iPad Enclosure

ID Tech Lightning Connector Card Reader

APG Vasario 16"x16" Cash Drawer

APG Star Prnter RJ Cable

Star Micronics TSP143L LAN Thermal Printer
*Please note: barcode scanner shown in photo above is an optional item and must be purchased separately.
Purchase Optional Bindo POS Hardware Items:
Socket Mobile 7Ci Barcode Scanner
Brecknell 6710U 30lb Scale
Zebra GK420d Direct Thermal Label Printer
Zebra GK420t Thermal Transfer Label Printer
*You can upgrade to the Star Micronics TSP650II Bluetooth thermal receipt printer in the 'drop down' options above.
Other Details
Open Shift. Close Shift: Manage shift activity with a simple click of a button. Readily track all transactions during a shift with automated options to calculate expected cash in cash drawer when shift closes. Pay In. Pay Out: Forget to record money into the till? Need to run out to buy store supplies? Allow employees to keep better track of all activities in the store with every individual shift. Automatic: Bindo Simple Scan Technology (SST): Scan a barcode, and the product photo, title and description will be automatically retrieved from our database of over 10,000,000 products. You can say goodbye to manual inventory input, because Bindo Simple Scan auto-fills the info for you. Accurate: Custom Inventory Reports: Track your stock and sales. View real-time updates and see the big picture with Bindo's custom reports. Painless: Product Matrix: Add, delete, and search your inventory with ease. Our product matrix allows you to painlessly choose your attributes and sort your inventory. Find Out Who Your Best Customers Are: All the important data, collected and summarized for you. Sales, orders, profit margins... all presented clearly for comparison. Integrated Customer Relationship Management: Easily create customer profiles during checkout. We capture and organize customers' names and orders with every card swipe. Combined with email receipts, we create a robust, powerful CRM. 46% of shoppers would buy from a retailer that personalizes the in-store shopping experience. Store Credit and Gift Card: Gift cards are a growing business. Over 70% of gift card users spend more money than the value of the card - an extra $20, on average. Create your own customized gift cards, featuring your logo. Loyalty Program: Bindo offers a flexible, multi-tier loyalty feature for tracking customer spending and rewards. 69% of shoppers say that their choice of retailer is influenced by where they can earn loyalty rewards. Track Every Customer's Spending History: Know how much your customers have spent and what they've purchased. Bindo helps you target your marketing, and helps you know when to reach out to encourage customer visits. Sales Summary Reports: View detailed breakdowns of revenue, cost, margin and more. Learn what works and what doesn't. Income Statement Analysis: Optimize your bottom line with income statement breakdowns. Cut costs efficiently and maximize operating income. Spot Your Best Products: Scrutinize your best and worst-selling products with side-by-side comparisons. Historical Comparisons: Frame your data with relevance. Whether it's an hour-by-hour or year-by-year comparison, Bindo allows you to compare your numbers against your past performance. Magnify Each Transaction: Bindo's Transaction Breakdown Report lets you effortlessly view the details of every sale with an unmatched level of flexibility. Specify exactly what you want to see with advanced filters and tools. One-Click Store Setup: With one click on Bindo POS, you put your entire store online. Adding products to your inventory automatically adds them to your online store. Invoices: Offer more payment methods, including partial payments, advance orders to suit any sale scenario. Check Order Status at a Glance: Quickly see all of your created, submitted, fulfilled and canceled orders with the tap of a finger. Intelligent Re-Ordering Suggestions: When you generate a purchase order, out of stock items and items running low will be suggested automatically. Stock management has never been easier. A Vault for All Your Invoices & Receipts: No more shuffling through paperwork and emails. Securely store and manage all of your invoices and receipts in one place. Manage Your Suppliers: Organize supplier info and keep tabs on every order you make from each supplier - all in one place. Gift Cards: Increase sales, retain old customers and earn new ones by offering gift cards. Bindo is here to help you set it up. Enhanced Real-time Reporting: Beautifully designed interactive charts and graphs turns your store numbers into data that is more easily understood. Line-Busting Mobile Checkout: Line-busting checkouts increase sales and reduce walk-outs from a change of heart. Now you can consult, sell and close the deal simultaneously. View Real-Time Reports: Whether you're behind the store counter or lounging at home, you can now view real-time reports wherever you are. Portable Inventory Management: We take multi-tasking to a new level with Bindo's all-in-one laser barcode scanner and credit card reader. Maximize your retail space and manage your inventory from your iPad POS, mobile or web. Business Without Boundaries: Using a smartphone for payment 'wows' customers, and expands checkouts everywhere. We drive revenue growth by extending in-store POS to special sales & outdoor events. Secure Data Access: Our fortified protocol module enables military-grade security, and TSSM technology protects against malicious third-party tampering. With Bindo mPOS, we encrypt end-to-end and tokenize cardholder data at the point of capture. Fast and Reliable Clock-In & Clock-Out: Track your associates' time on the job with Bindo's PIN-based staff management system. Physical time cards are a thing of the past. Time Clock Dashboard: View real-time reports on associates' work schedules. Follow the hours your employees have tracked. Fail-Safe Face Capture: Avoid foul play with Identity Safeguard. In addition to passwords, Bindo takes a picture when employees check in and out. Discounts: Apply discounts at any point of the sale to accommodate for every scenario. Multiple-Store Management: Keep tabs on all your stores, anywhere you go. Switch between stores with ease and speed. Single Catalog Management: Synchronize your inventory across all your stores. Know where any product is at any given time. Unified Customer Database: Get in touch with your customers across all your locations. Bindo gives you valuable insights into each of your customers, knowing who bought what, when, and where. Multi-User Management: Bindo scales with your business. Grow from one location to hundreds, or a single employee to thousands. Receive easy access to employee sales data and time management for your entire workforce. Enterprise: Highly customizable enterprise solutions from laundry chains to electronics retailers. Bindo POS - The First POS System to Accept Apple Pay: Bindo POS, the iPad based point of sale system, is the first Apple Pay enabled solution. Fill out your email below, and be one of the first retail stores to accept credit card payments via Apple Pay. QuickBooks Integration: Import revenue as well as costs into QuickBooks. We make your margins calculations 3 times as fast. Xero Integration: Import revenue as well as costs into Xero. We make your margins calculations 3 times as fast. API Integration: Bindo's API lets you access our data so you can build your apps better and faster.
Custom Field
Product Reviews