iPad POS System Buying Guide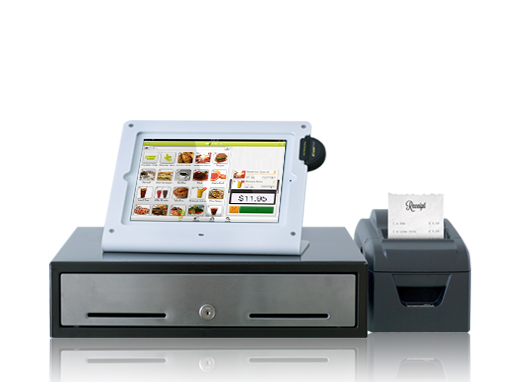 Your Complete iPad POS System Hardware Guide Starts Here:
We supply all of the iPad Point of Sale (POS) hardware equipment you need to turn your iPad into a modern POS system. Below is a listing of the POS hardware categories that will get your iPad up and running and taking sales in no time.
If you are unsure of what you need, we suggest reading this article in our blog section. It will help you choose the best iPad POS system hardware.
$ave yourself the cost and hassle of a return, please be sure to check with your iPad POS software vendor first before purchasing an iPad system receipt printer and credit card reader (MSR). You want to ensure that the hardware your purchase is compatible with your iPad POS software.
iPad POS System Stands/Enclosures
An iPad POS stand is at the heart of your iPad POS system. These modern looking stands complement and protect your iPad, while allowing it to be secured.
Show your Company's personality with the latest, trendiest, POS transaction solution from Archelon. iPad POS system enclosure/stand technology is the future now for restaurant, retail and hospitality sectors.
Archelon iPad POS System Enclosures/Stands
Your retail store or restaurant deserves an impressive iPad POS system. The WindFall line of iPad enclosures are an elegant design exuding strength while it preserves the slim profile of the iPad. The WindFall iPad enclousres are available in many different colors and finishes.
Heckler Design Windfall iPad POS System Enclosures (Top Value Pick!)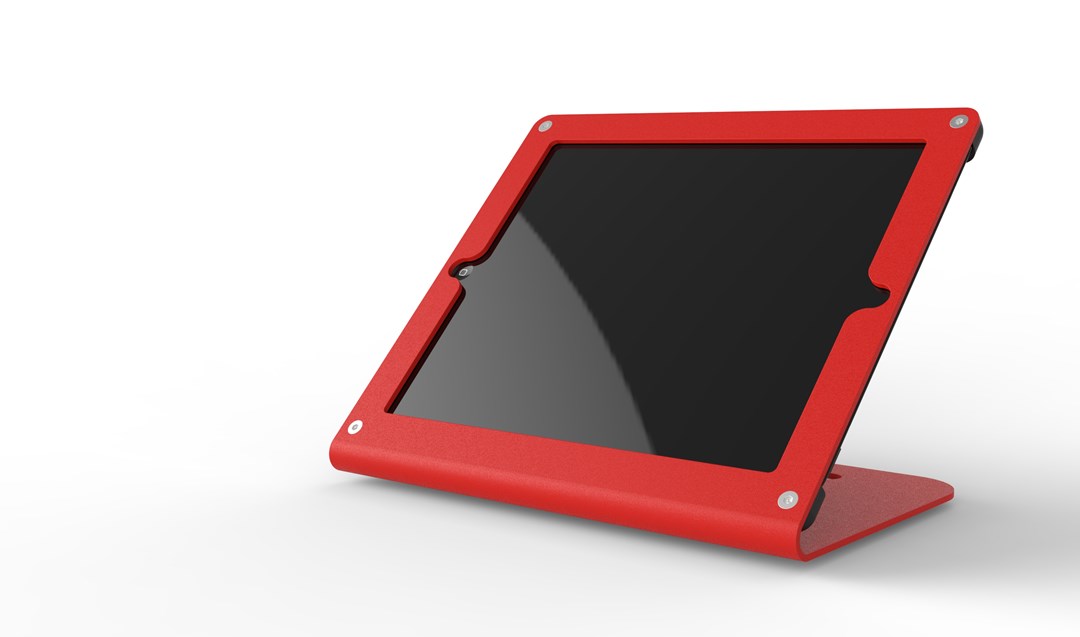 The Windfall "C" has all of the same great features as the original Windfall iPad POS system stand but with many additional credit card reader options.
Heckler Design Windfall "C" iPad POS System Enclosure
We offer Heckler Design iPad POS system hardware box sets for the iPad Air. These box sets include the Windfall iPad enclosure, receipt printer driven cash drawer, penny tray and a Kensington security lock. This Heckler Design iPad POS hardware box set allow you to quickly and easily turn your iPad Air into a modern POS system.
Heckler Design iPad Air POS Hardware Box Set
The Heckler Design @Rest iPad stand has a beautiful, elegant and simple design that complements any iPad POS system. The Heckler Design POS stand is also built to last with its steel frame weighing in at 3lbs that can hold up to countless POS transactions, while its screw down base keeps it securely in place.
Heckler Design @Rest iPad POS System Stand
The Heckler Design HighSign wall mountable enclosure for iPad 2, 3, 4 is perfect for retail and hospitality Point of Sale (POS) applications needing a robust, low cost, wall mountable iPad POS system solution. The Heckler Design HighSign iPad enclosure is smartly designed to have most of the iPad's I/O ports, and switches to remain accessible.
Heckler Design HighSign iPad POS System Enclosure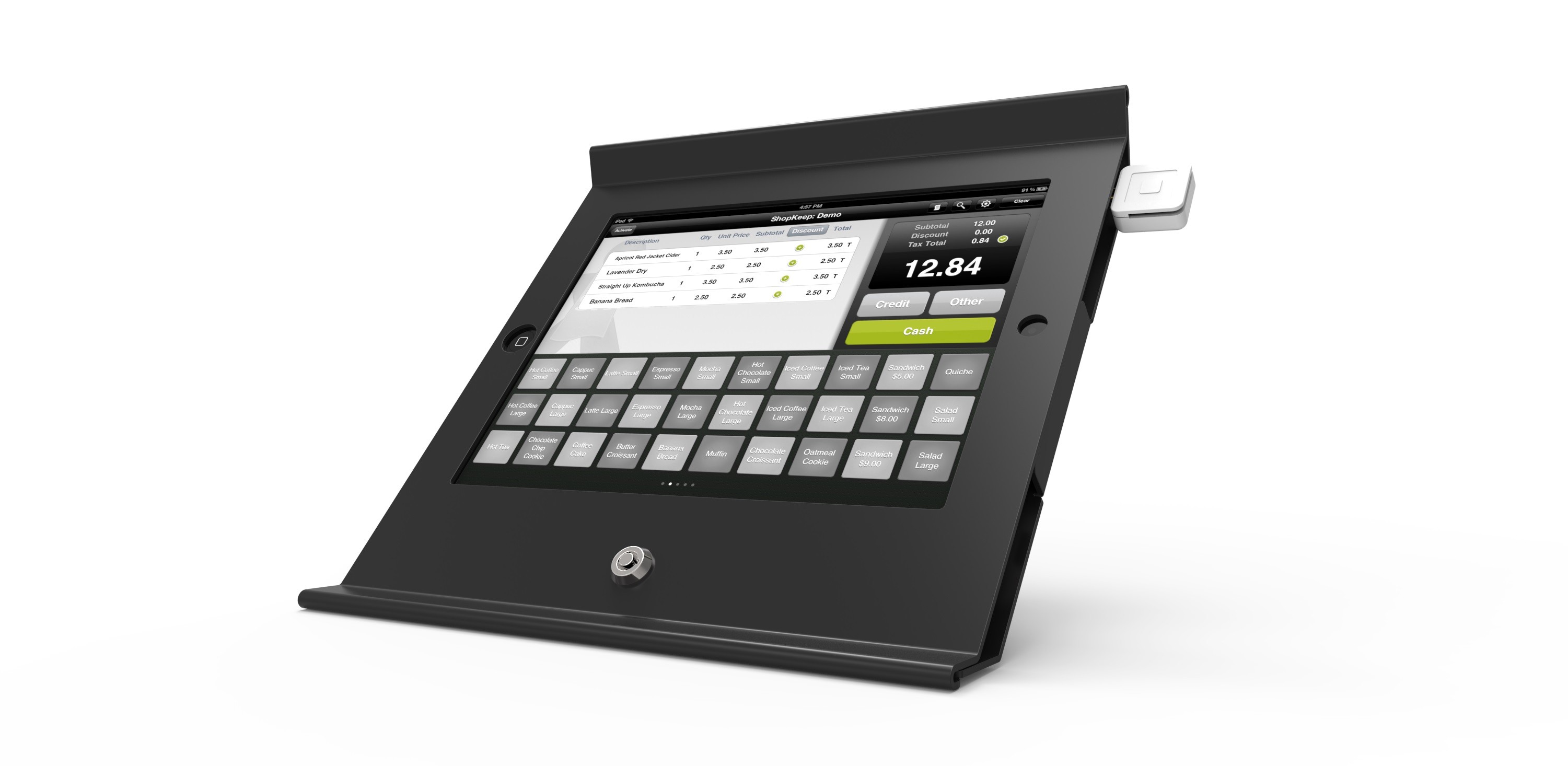 The Kensington SecureBack series of Point of Sale (POS) stands and enclosures for iPad POS systems, converts your iPad into a cutting-edge, secure Point of Sale station. The SecureBacK POS stands are rugged and will hold up to thousands of POS transactions and protects your iPad from damage.
Kensington iPad POS System Enclosures/Stands
The Maclocks Slide Basic and Slide Pro iPad POS enclosures gives retailers and restaurateurs 2 great choices to complete their iPad POS station solution. Both accommodate many different credit card readers. And both offer a refined, elegant look and style that only an iPad POS system deserves.
Maclocks iPad POS System Enclosures
APG offers a new, low cost alternative tablet stand that accommodates tablets from 6.6" to 8.5" in size. The APG Stratis tablet stand offers clean looks and an optional matching cash drawer for a superior look and finish, all at a bargain price.
APG Startis Tablet POS System Stand
The MMF Flex series of tablet POS enclosures provide a durable housing with accommodation for many different types of credit card readers. The MMF Flex series is unique that it works with Apple, Android or Windows tablets based on size. The MMF Flex POS tablet enclosures future proof your investment without breaking the bank.
MMF Flex Series Tablet POS Enclosures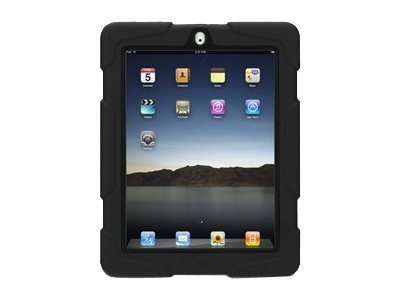 iPad POS System Stand Accessories
Be sure to check out all of the accessory items for the iPad POS system stands.
Optional iPad Stand Accessories
iPad POS System Mobile Sleds
If you plan on using your iPad for remote sales, then check out our selection of iPad sleds:
iPad Mobile POS Cases/Sleds & Accessories
iPad POS System WIRELESS Receipt Printer
You have 3 choices when it comes to compatible iPad POS printers. You can get a full size desktop printer that's Bluetooth or WiFi enabled, or you can get a mobile Bluetooth printer. If you plan to have your iPad on a counter and in a stand, then we suggest you get a full size desktop receipt printer. PLEASE CHECK WITH YOUR CHOSEN POS SOFTWARE VENDOR BEFORE PURCHASING A RECEIPT PRINTER TO ENSURE SYSTEM COMPATIBILITY.
The Star Micronics TSP600II BTi Bluetooth thermal receipt printer is one of the few receipt printers that is approved to work with Apple mobile devices such as the iPad and iPhone. The TSP600II BTi receipt printer is iOS compatible (MFi Certified).
Star TSP650II BTi Bluetooth iOS/iPad POS System Receipt Printer
The Star Micronics WiFi Power Pack easily and cost effectively converts any Star Micronics Ethernet (LAN) interface printer into a wireless printer. This is a low cost, easy to install solution to allow any Star LAN impact or thermal receipt printer to communicate with a WiFi enabled device including smart phones and tablets.
Read an article about the Star WiFi Power Pack here.
Star WiFi Power Pack Adapter (ONLY WORKS WITH STAR ETHERNET RECEIPT PRINTERS)
We carry a wide selection of 2", 3" and 4" iOS compatible mobile receipt printers from Star Micronics, Citizen and Epson for those needing the ability to print receipts remotely such as route sales teams.
iOS Compatible/iPad POS System Mobile Printers (Citizen, Epson, Star Receipt Printers)
iPad POS System WIRED Receipt Printer
If you decide not to go with a wireless receipt printer, you can get a wired/Ethernet receipt printer. The most common Ethernet receipt printer used with iPad POS software programs is the Star Micronics TSP650II LAN printer. Please note that you will need an existing network in place for this to work. And Please be sure to check with your POS software vendor first before purchasing this item. You want to ensure it is supported by your software.
iPad POS Sytem WIRELESS Barcode Scanner
If you are setting up an iPad POS retail system and need a wireless scanner, we highly recommend Socket Mobile barcode scanners. Socket Mobile barcode scanners are an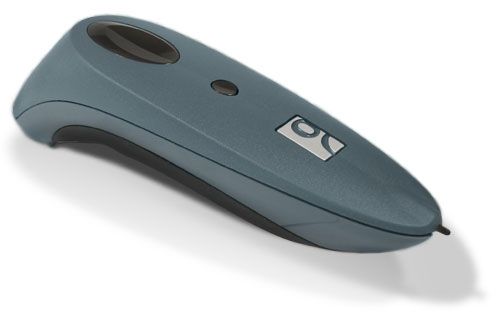 excellent choice if you plan to have your iPad POS system stationary and enclosed in a stand. Be careful choosing which Socket Mobile iPad compatible barcdode scanner is right for you because the scan engines are different in each. Pick the one that best fits your needs. If you need help, please contact us.
Socket Mobile iPad POS System Barcode Scanners
If you need an iPad compatible barcode scanner for low volume scanning, then we suggest the following barcode scanners from ID Tech and Cipher Lab:
ID Tech BTScan, Bluetooth, 1D Wireless POS Barcode Scanner
Cipherlab 1664 Mobile Barcode Scanner 2D Bluetooth
iPad POS System Credit Card Reader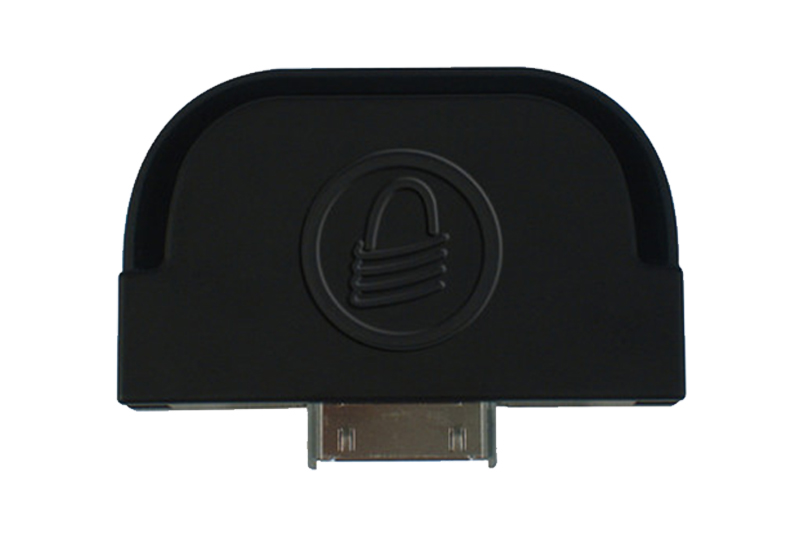 We carry the Magtek iDynamo which is compatible with most of the POS iPad enclosures. There are many different types of the Magtek iDynamo credit card readers. We have the most commonly requested models listed. Please be sure to check with your POS software vendor before you purchase one of these iDynamo credit card readers to ensure system compatibility. You may also need to contact your credit card processor as well to ensure compatibility.
iPad POS System Credit Card Readers
iPad POS System Cash Drawer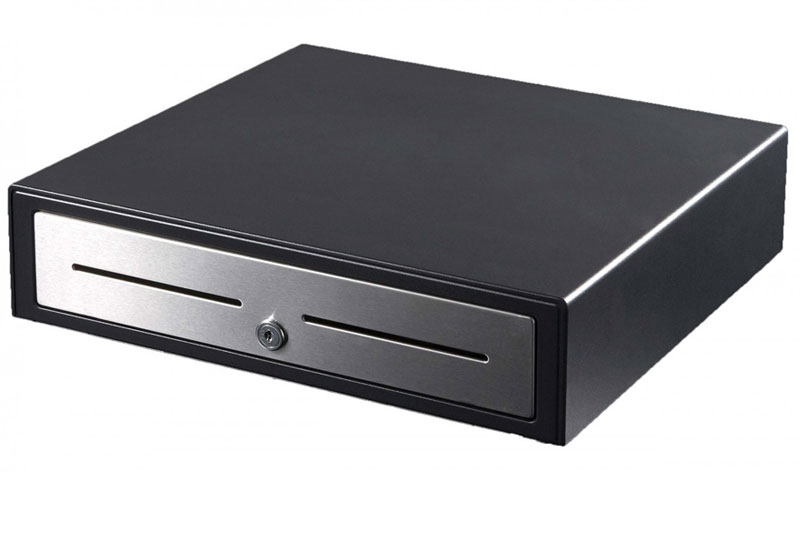 Most cash drawers in iPad POS systems are receipt printer driven cash drawers. There is an RJ cable (looks like a telephone cable) that connects the cash drawer to a desktop receipt printer. When the receipt printer prints, a signal is sent to a solenoid in the cash drawer that opens the drawer. A cash drawer is a "non-intelligent device" so it is simple to operate. If you plan on having your iPad POS system stationary, then you will more than likely need a receipt printer driven cash drawer. Please note that you must have a desktop receipt printer to connect the cash drawer to via the standard RJ cable; a mobile receipt printer will not work.
Cash Drawers for iPad POS Syetms
APG Cash Drawer Bluetooth Converter Box (Convert any APG electronic receipt printer driven cash drawer with RJ cable into a wireless Bluetooth cash drawer with this adapter).
You're Almost There!
Now that you know all of the iPad POS system hardware you need to get, you are well on your way to turning your iPad into a POS system. So congratulations are in order! Please don't hesitate to message, email or call us if you need further assistance. We are POS system experts standing by ready to help you.
Buying Tip: Be sure to check out our Buyer's Guides and POS System Blog for more useful POS hardware help.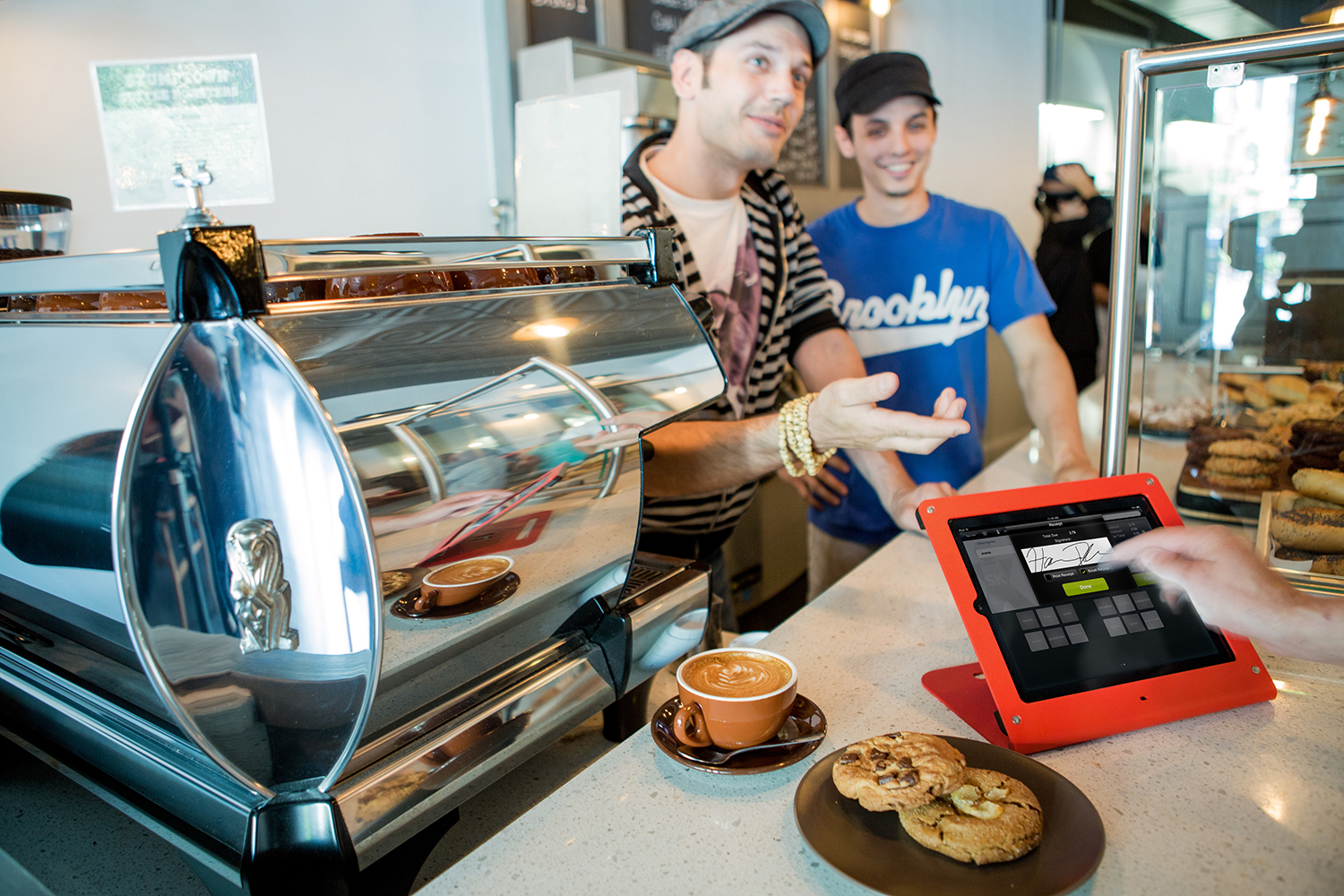 Happy Store Owners with Their New, Stylish iPad POS System :-)